Get our newsletter!
Try our free app!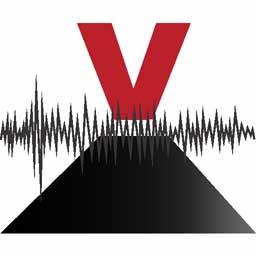 Volcano Discoveries: "One of the most eye-catching guides to the world's volcanoes ever published.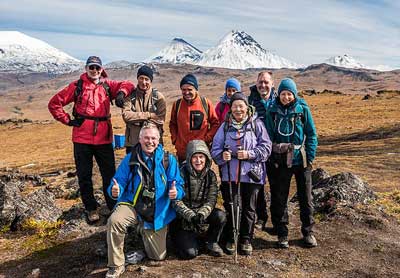 Our expert volcanologists and photographers offer unique travel experiences: volcano expeditions, photo tours, and relaxed walking & study tours.
Guaranteed tours
: spaces available / : guaranteed / : few spaces left / : booked out
Pacaya volcano satellite image by (c) Google Earth View
Pacaya volcano
Pacaya volcano near Guatemala City is one of Guatemala's most active volcanoes, and its frequent eruptions are often visible from Guatemala City. Typical activity in recent years includes strombolian activity, lava flow emission and intermittend violent phases of lava fountaining.
Complex volcano 2552 m (8,373 ft)
Guatemala, 14.38°N / -90.6°W
Current status: erupting (4 out of 5)

Pacaya webcams / live data | Reports
Pacaya volcano books | Tours
Pacaya volcano eruptions:
1360, 1565, 1623(?), 1651, 1655, 1664, 1668, 1671, 1674, 1677(?), 1678, 1690, 1693, 1699, 1717(?), 1760(?), 1775, 1805, 1830(?), 1846, 1885, 1961, 1965, 1970, 1972, 1973, 1976, 1977, 1978, 1980 – May 1998 (intense period of summit activity), 1999-2003, 2004-2010, 2012, 2013, 2014
Typical eruption style:
Mildly explosive and effusive (Strombolian activity, lava fountaining, lava flows from the summit crater). Near continuously active the least during the past centuries.

Last earthquakes nearby
Pacaya volcano tours

Volcanoes in the land of the Maya (15-days study trip and expedition to Guatemala's volcanoes)

Latest satellite images


Sentinel hub | Landsat 8
Volcano news: Pacaya (Guatemala)
Pacaya Volcano Volcanic Ash Advisory: VA NOT OBSD
Wed, 28 Oct 2020, 14:45
14:45 PM | BY: VN
Volcanic Ash Advisory Center Washington (VAAC) issued the following report:
FVXX22 at 14:35 UTC, 28/10/20 from KNES
VA ADVISORY
DTG: 20201028/1409Z
VAAC: WASHINGTON
VOLCANO: PACAYA 342110
PSN: N1422 W09035
AREA: GUATEMALA
SUMMIT ELEV: 8373 FT [2552 M]
ADVISORY NR: 2020/015
INFO SOURCE: GOES-EAST.
ERUPTION DETAILS: VA NOT OBSD
OBS VA DTG: 28/1340Z
OBS VA CLD: NO VA EXP
FCST VA CLD +6HR: 28/1930Z NO VA EXP
FCST VA CLD +12HR: 29/0130Z NO VA EXP
FCST VA CLD +18HR: 29/0730Z NO VA EXP
RMK: VA EM NOT SEEN ON STLT IMAGERY IN THE LAST
SVRL HRS. ADVISORY ENDED. …KIM
NXT ADVISORY: NO FURTHER ADVISORIES=
Previous news
The effusive-explosive eruption of the volcano has remained essentially unchanged at moderate to high levels. … read all
Effusive-explosive eruption of the volcano continues at high levels. … read all
More on VolcanoDiscovery
If you find the website useful and would like to support us and help keep it alive and improve it, please consider making a small donation. Thank you!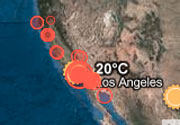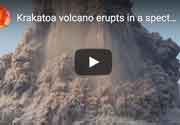 Krakatoa explodes: In the afternoon of 17 Oct, a particularly violent explosion occurred at Anak Krakatau, blasting away a portion of the southern crater rim. A similar event might have been the final trigger for the catastrophic landslide that let the cone collapse and cause a devastating tsunami on 22 Dec 2018.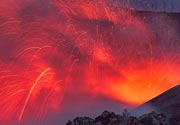 Volcanoes & Spices: This 17-days adventurous expedition is one of our most exciting volcano tours! Visit Halmahera, North Sulawesi and the Sangihe Islands with some of Indonesia's most active volcanoes, including Dukono, Ibu, Lokon, Soputan and Karangetang.