Satellite images of Popocatepetl volcano (c)Google Earth View
Popocatépetl volcano
Popocatepetl is one of Mexico's most active volcanoes. After almost 50 years of dormancy, "Popo" came back to life in 1994 and has since then been producing powerful explosions at irregular intervals.
In the past centuries befor European invasions, large eruptions produced giant mud flows that have buried Atzteque settlements, even entire pyramids.
Stratovolcano 5426 m / 17,802 ft
Central Mexico, 19.02°N / -98.62°W
Current status: erupting (4 out of 5)

Popocatépetl webcams / live data | Reports
Popocatépetl volcano videos
Popocatépetl volcano books | Tours
Popocatépetl volcano eruptions:
1345-47, 1354, 1363(?), 1488, 1504, 1509(?), 1512, 1518, 1519-23(?), 1528, 1530, 1539-40, 1542, 1548, 1571, 1580, 1590, 1592-94, 1642, 1663-65, 1666-67, 1697, 1720, 1802-04, 1827(?), 1834(?), 1852(?), 1919-22, 1923-24, 1925-27(?), 1933, 1942-43, 1947, 1994-95, 1996-2003, 2004-ongoing
Typical eruption style:
Dominantly explosive, construction of lava domes. Plinian eruptions at intervals of several centuries or few thousands of years, vulcanian and strombolian activity in intermittent phases.

Last earthquakes nearby
Popocatépetl volcano tours
Popocatépetl Volcano Special (tour to see the ongoing eruption of Mexico's most active volcano)

Latest satellite images


Sentinel hub | Landsat 8
Popocatepetl volcano news & eruption update
Popocatépetl Volcano Volcanic Ash Advisory: VA EM OBSD to 19000 ft (5800 m)
Wednesday Oct 21, 2020 13:00 PM | BY: VN
Explosive activity continues. Volcanic Ash Advisory Center (VAAC) Washington warned about a volcanic ash plume that rose up to estimated 19000 ft (5800 m) altitude or flight level 190 .
The full report is as follows:
FVXX22 at 12:58 UTC, 21/10/20 from KNES
VA ADVISORY
DTG: 20201021/1255Z
VAAC: WASHINGTON
VOLCANO: POPOCATEPETL 341090
PSN: N1901 W09837
AREA: MEXICO
SUMMIT ELEV: 17802 FT [5426 M]
ADVISORY NR: 2020/926
INFO SOURCE: GOES-EAST. WEB CAM. NWP MODELS.
ERUPTION DETAILS: VA EM OBSD
OBS VA DTG: 21/1246Z
OBS VA CLD: SFC/FL190 N1902 W09838 – N1858 W09838
– N1835 W09903 – N1846 W09916 – N1902 W09838 MOV
SW 5KT
FCST VA CLD +6HR: 21/1900Z SFC/FL190 N1906 W09856
– N1901 W09837 – N1859 W09838 – N1853 W09856 –
N1906 W09856
FCST VA CLD +12HR: 22/0100Z NO VA EXP
FCST VA CLD +18HR: 22/0700Z NO VA EXP
RMK: CONS VA EM SEEN ON STLT IMAGERY EXTENDING
APPROX 40 NM SW FM SUMMIT. VA HEIGHT AND FRCST
BASED ON IMAGERY AND MODEL GUIDANCE. WINDS EXPCD
TO VEER MOR W THRU FRCST PERIOD. …KIM
NXT ADVISORY: WILL BE ISSUED BY 20201021/1900Z
Previous news
Tuesday, Oct 20, 2020
Monday, Oct 19, 2020
Background:
Volcán Popocatépetl, whose name is the Aztec word for smoking mountain, towers to 5426 m 70 km SE of Mexico City to form North America's 2nd-highest volcano.  The glacier-clad stratovolcano contains a steep-walled, 250-450 m deep crater.  The generally symmetrical volcano is modified by the sharp-peaked Ventorrillo on the NW, a remnant of an earlier volcano. 
At least three previous major cones were destroyed by gravitational failure during the Pleistocene, producing massive debris-avalanche deposits covering broad areas south of the volcano.  The modern volcano was constructed to the south of the late-Pleistocene to Holocene El Fraile cone.  Three major plinian eruptions, the most recent of which took place about 800 AD, have occurred from Popocatépetl since the mid Holocene, accompanied by pyroclastic flows and voluminous lahars that swept basins below the volcano.  Frequent historical eruptions, first recorded in Aztec codices, have occurred since precolumbian time.
—
Source: GVP, Smithsonian Institution – Popocatepetl information
More on VolcanoDiscovery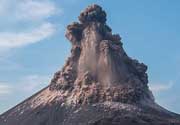 Eruption from close: On 17 Oct, explosions were particularly violent at Anak Krakatau. We show a series of images of a spectacular explosion captured from close range by boat.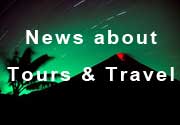 Tours and travel news: Keep up to date about specials, new destinations, tour offerings about our tours and travel news site.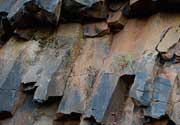 Igneous or magmatic rocks: The most primitive rock type forms when magma (molten rock) solidifies – either inside the earth (plutonic rocks) or during volcanic eruptions (volcanic rocks). A short overview.