Sangay volcano news
Sangay Volcano Volcanic Ash Advisory: VA EM CONTINUES to 21000 ft (6400 m)
Saturday Sep 19, 2020 02:00 AM | BY: VN
Satellite image of Sangay volcano on 19 Sep 2020
Explosive activity continues. Volcanic Ash Advisory Center (VAAC) Washington warned about a volcanic ash plume that rose up to estimated 21000 ft (6400 m) altitude or flight level 210 .
The full report is as follows:
FVXX20 at 01:50 UTC, 19/09/20 from KNES
VA ADVISORY
DTG: 20200919/0147Z
VAAC: WASHINGTON
VOLCANO: SANGAY 352090
PSN: S0200 W07820
AREA: ECUADOR
SUMMIT ELEV: 17159 FT [5230 M]
ADVISORY NR: 2020/903
INFO SOURCE: GOES-EAST. VONA. NWP MODELS.
ERUPTION DETAILS: VA EM CONTINUES
OBS VA DTG: 19/0130Z
OBS VA CLD: SFC/FL210 S0156 W07922 – S0200 W07820
– S0201 W07820 – S0208 W07922 – S0156 W07922 MOV
W 15-20KT
FCST VA CLD +6HR: 19/0730Z SFC/FL210 S0158 W07843
– S0200 W07820 – S0201 W07820 – S0204 W07844 –
S0158 W07843
FCST VA CLD +12HR: 19/1330Z SFC/FL210 S0158
W07844 – S0159 W07820 – S0201 W07820 – S0204
W07844 – S0158 W07844
FCST VA CLD +18HR: 19/1930Z SFC/FL210 S0157
W07844 – S0200 W07819 – S0201 W07820 – S0204
W07844 – S0157 W07844
RMK: CONS VA EM SEEN ON STLT IMAGERY EXTENDING
APPROX 65 NM W OF SUMMIT. VA HEIGHT AND FRCST
BASED ON IMAGERY, VO RPRT AND MODEL GUIDANCES.
…KIM
NXT ADVISORY: WILL BE ISSUED BY 20200919/0745Z
Previous news
Thursday, Sep 17, 2020
Explosive eruption of the volcano continues at moderately high levels. … read all
More on VolcanoDiscovery: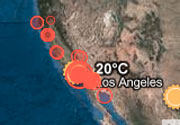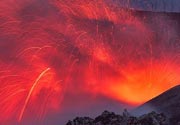 17 days volcano trekking: This is one of our most exciting volcano tours! Halmahera, North Sulawesi and the Sangihe Islands are not only very scenic and interesting as well as nearly unspoiled by tourism, but also home to some of the country's most active (and often erupting) volcanoes, inclduing Dukono, Ibu, Lokon, Soputan and Karangetang.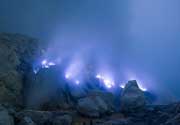 Ijen volcano photos: Ijen volcano in East Java is famous for its turquoise acid crater lake and the large sulfur deposits that are being mined by local workers. At night, the scene is illuminated by ghostly blue flames, as sulfur ignites.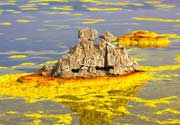 Dallol hot springs: One of the most bizarre landscapes on earth: Dallol is a vast and very active hydrothermal field creating a colorful array of hot springs, small geysers, salt towers, colorful lakes and ponds in the middle of the deepest part of the Danakil desert and the Karum salt lake.