Sabancaya volcano
Sabancaya volcano (its name meaning "tongue of fire" in Quechua Indian language) is located in the southern Peruvian Andes and one of Peru's most active volcanoes.
The stratovolcano is covered with several glaciers and located in the saddle between the older stratovolcanoes Ampato (6288 m) and Hualca Hualca (6025 m) and the only one of the group that has erupted in historic times.
Sabancaya belongs to one of South America's volcanoes with the oldest recorded history of eruptions.
Historic records of eruptions from Sabancaya date back to 1750, but its name already appears in written accounts from 1595 AD, suggesting that it had been active around or before that date as well.
stratovolcano 5967 m / 19,577 ft
Peru, -15.78°S / -71.85°W
Current status: erupting (4 out of 5)

Sabancaya webcams / live data | Reports
Sabancaya volcano books
Sabancaya volcano eruptions:
2016, 2015, 2014, 2003, 2000, 1998, 1997, 1990-95, 1988, 1986, 1784, 1750,
Typical eruption style:
explosive and effusive

Last earthquakes nearby
Latest satellite images


Sentinel hub | Landsat 8
Sabancaya volcano news & activity updates:
Sabancaya Volcano Volcanic Ash Advisory: INTERMITTENT PUFFS OF VA to 23000 ft (7000 m)
Monday Sep 21, 2020 03:15 AM | BY: VN
Explosive activity continues. Volcanic Ash Advisory Center (VAAC) Buenos Aires warned about a volcanic ash plume that rose up to estimated 23000 ft (7000 m) altitude or flight level 230 .
The full report is as follows:
FVAG01 at 03:01 UTC, 21/09/20 from SABM
VA ADVISORY
DTG: 20200921/0300Z
VAAC: BUENOS AIRES
VOLCANO: SABANCAYA 354006
PSN: S1547 W07150
AREA: PERU
SUMMIT ELEV: 19576 FT [5967 M]
ADVISORY NR: 2020/1116
INFO SOURCE: GOES-E. GFS. WEBCAM.
AVIATION COLOUR CODE: NOT GIVEN
ERUPTION DETAILS: INTERMITTENT PUFFS OF VA
OBS VA DTG: 21/0230Z
OBS VA CLD: SFC/FL230 S1505 W07119 – S1511 W07110
– S1547 W07126 – S1547 W07151 – S1505 W07119 MOV
NE 30KT
FCST VA CLD +6 HR: 21/0830Z SFC/FL230 S1500 W07107
– S1509 W07057 – S1549 W07119 – S1547 W07151 –
S1500 W07107
FCST VA CLD +12 HR: 21/1430Z SFC/FL230 S1502
W07057 – S1513 W07050 – S1553 W07120 – S1547
W07151 – S1502 W07057
FCST VA CLD +18 HR: 21/2030Z SFC/FL230 S1505
W07053 – S1515 W07047 – S1549 W07119 – S1547
W07151 – S1505 W07053
RMK: VA PULSES ARE DETECTED IN STLT IMAGERY
EXTENDING 51NMI. THERMAL WEBCAM SHOWS
INTERMITTENT EMISSIONS …SMN
NXT ADVISORY: WILL BE ISSUED BY 20200921/0900Z=
Previous news
Saturday, Sep 19, 2020
More on VolcanoDiscovery: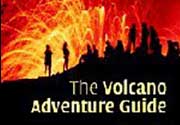 Excellent information for anyone wishing to visit and enjoy active volcanoes safely. Detailed guidelines to 42 different volcanoes around the world.
Sakurajima volcano photos: One of the world's most active volcanoes, Sakurajima on Japan's Kyushu Island is famous for its frequent vulcanian explosions, often accompanied by eruption lightning.
A violent vulcanian-type explosion from Anak Krakatau in pictures step by step.