Get our newsletter!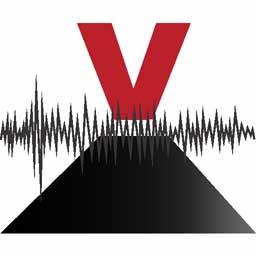 Volcano Discoveries: "One of the most eye-catching guides to the world's volcanoes ever published.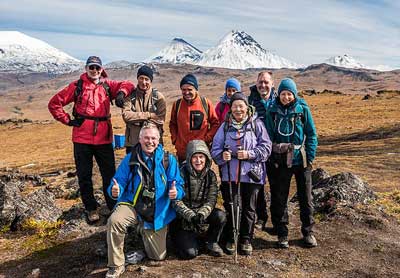 Our expert volcanologists and photographers offer unique travel experiences: volcano expeditions, photo tours, and relaxed walking & study tours.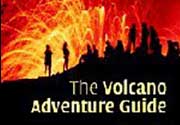 Excellent information for anyone wishing to visit and enjoy active volcanoes safely. Detailed guidelines to 42 different volcanoes around the world.
Guaranteed tours:
: spaces available / : guaranteed / : few spaces left / : booked out
Ebeko volcano
Ebeko is one of the most active volcanoes in the Kurile Islands, located in northern Paramushir Island south of Kamchatka.
Ebeko volcano has a flat top with 3 summit craters aligned SSW-NNE. The eastern part of the southern crater contains a large boiling spring. The middle crater has a hot lake with solfataras along its shore. The lower northern crater has a small, cold lake and is separated from the middle crater by a narrow ridge.
Historical activity has been recorded since the late 18th century and consisted in small to moderate explosive eruptions from the summit craters. Intense fumarolic activity occurs in the summit craters of Ebeko and on the outer flanks of the cone, as well as inside lateral explosion craters.
somma volcano 1156 m / 3,793 ft
Paramushir Island, Kuril Islands, 50.68°N / 156.02°E
Current status: erupting (4 out of 5)

Ebeko webcams / live data | Reports
Ebeko volcano books | Tours
Ebeko volcano eruptions:
2016-ongoing, 2009, 2005, 1991, 1989-90, 1987-88, 1971, 1969, 1967, 1965-66, 1963, 1934-35, 1859, 1793
Typical eruption style:
explosive

Last earthquakes nearby
Ebeko volcano tours
Islands of Fire and Whales – South Kuriles (12-days expedition to the southern Kuriles Islands)
Islands of Fire and Whales (14-days sailing expedition to the northern Kuriles Islands)

Latest satellite images


Sentinel hub | Landsat 8
Ebeko volcano news & activity updates
Ebeko Volcano Volcanic Ash Advisory: ERUPTION AT 20200830/2129Z FL100 EXTD S REPORTED OBS VA DTG: 30/2140Z
Sunday Aug 30, 2020 22:00 PM | BY: VN
Satellite image of Ebeko volcano on 30 Aug 2020
Volcanic Ash Advisory Center Tokyo (VAAC) issued the following report:
FVFE01 at 21:56 UTC, 30/08/20 from RJTD
VA ADVISORY
DTG: 20200830/2156Z
VAAC: TOKYO
VOLCANO: EBEKO 290380
PSN: N5041 E15601
AREA: KURIL ISLANDS
SUMMIT ELEV: 1103M
ADVISORY NR: 2020/191
INFO SOURCE: HIMAWARI-8 KBGS
AVIATION COLOUR CODE: NIL
ERUPTION DETAILS: ERUPTION AT 20200830/2129Z FL100 EXTD S REPORTED
OBS VA DTG: 30/2140Z
OBS VA CLD: VA NOT IDENTIFIABLE FM SATELLITE DATA WIND FL100 330/15KT
FCST VA CLD +6 HR: NOT AVBL
FCST VA CLD +12 HR: NOT AVBL
FCST VA CLD +18 HR: NOT AVBL
RMK: WE WILL ISSUE FURTHER ADVISORY IF VA IS DETECTED IN SATELLITE
IMAGERY.
NXT ADVISORY: NO FURTHER ADVISORIES=
Previous news
Sunday, Aug 23, 2020
Explosive eruption of the volcano continues at fluctuating levels with sporadic ash emissions. read all
Saturday, Aug 22, 2020
More on VolcanoDiscovery:
Sakurajima volcano photos: One of the world's most active volcanoes, Sakurajima on Japan's Kyushu Island is famous for its frequent vulcanian explosions, often accompanied by eruption lightning.
Best tours to see lava: Visiting an erupting volcano is an unforgettable experience. If you're particularly looking to see "Red Hot Lava", these are among the best places to go to.
Photos from Italy: Italy – the cradle of volcanology. Browse through various photo galleries mainly from its numerous volcanic areas – from Naples to Etna and the Eolian Islands and more.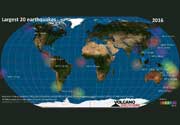 Top 20 quakes in 2016: Several magnitude 7 quakes occurred in 2016 (but none above M8): Papua New Guinea, NZ, Ecuador, Solomon Islands, Sumatra, Chile, Alaska and others – nearly all major earthquakes were located near active subduction zones.

See the top 20 list of largest quakes in 2016 with this map.