Get our newsletter!
Try our free app!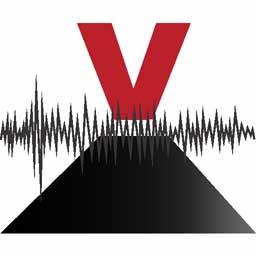 Volcano Discoveries: "One of the most eye-catching guides to the world's volcanoes ever published.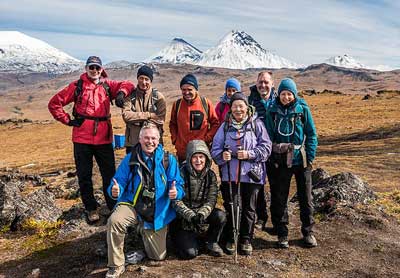 Our expert volcanologists and photographers offer unique travel experiences: volcano expeditions, photo tours, and relaxed walking & study tours.
Guaranteed tours
: spaces available / : guaranteed / : few spaces left / : booked out
Fuego volcano
Fuego, one of Central America's most active volcanoes, is one of three large stratovolcanoes overlooking Guatemala's former capital, Antigua. It typically has strombolian activity and sometimes phases of intense lava fountaining, producing tall ash plumes and dangerous pyroclastic flows.
Stratovolcano 3,763 m / 12,346 ft
Guatemala, 14.47°N / -90.88°W
Current status: erupting (4 out of 5)

Fuego webcams / live data | Reports
Fuego volcano videos
Fuego volcano books | Tours
Fuego volcano eruptions:
1581, 1585, 1586, 1587, 1614, 1617, 1620, 1623, 1629, 1679(?), 1685, 1686, 1689(?), 1699, 1702, 1705, 1706, 1709(?), 1710,1717,1730, 1732, 1737, 1751(?), 1765(?), 1773(?), 1799, 1826, 1829, 1850(?), 1852(?), 1855, 1856, 1857, 1860, 1861(?), 1867(?), 1880, 1896, 1932, 1944, 1949, 1953, 1955, 1957, 1962, 1963, 1966, 1967, 1971, 1973, 1974, 1975, 1977, 1987, 1999, 2002 – ongoing
Typical eruption style:
Dominantly explosive, construction of lava domes and extrusion of viscous lava flows. In near constant activity, at least during the past centuries.

Last earthquakes nearby
Fuego volcano tours

Volcanoes in the land of the Maya (15-days study trip and expedition to Guatemala's volcanoes)

Latest satellite images


Sentinel hub | Landsat 8
Satellite image of Fuego volcano by (c) Google Earth View
Fuego Volcano Volcanic Ash Advisory: DECR EM to 15000 ft (4600 m)
Sat, 31 Oct 2020, 15:00
15:00 PM | BY: VN
Explosive activity continues. Volcanic Ash Advisory Center (VAAC) Washington warned about a volcanic ash plume that rose up to estimated 15000 ft (4600 m) altitude or flight level 150 .
The full report is as follows:
FVXX22 at 14:55 UTC, 31/10/20 from KNES
VA ADVISORY
DTG: 20201031/1453Z
VAAC: WASHINGTON
VOLCANO: FUEGO 342090
PSN: N1428 W09052
AREA: GUATEMALA
SUMMIT ELEV: 12346 FT [3763 M]
ADVISORY NR: 2020/392
INFO SOURCE: GOES-EAST. NWP MODELS. INSIVUMEH.
ERUPTION DETAILS: DECR EM
OBS VA DTG: 31/1430Z
OBS VA CLD: SFC/FL150 N1430 W09052 – N1428 W09052
– N1423 W09101 – N1426 W09102 – N1430 W09052 MOV
SW 15-20KT
FCST VA CLD +6HR: 31/2030Z NO VA EXP
FCST VA CLD +12HR: 01/0230Z NO VA EXP
FCST VA CLD +18HR: 01/0830Z NO VA EXP
RMK: A DISCRETE EM RESULTED IN A VA CLD CENTERED
8 NM SW OF THE SUMMIT AND DISP QUICKLY. HGT BASED
ON VO. …TURK
NXT ADVISORY: WILL BE ISSUED BY 20201031/2100Z
Previous news
Explosive eruption of the volcano continues characterized by near-continuous strombolian-type explosions producing frequent ash emissions from the summit vent at regular intervals of 5 to 7 per hour. Plume of ash rose to an altitude of 4,700 ft (15,420 m) and drifted S-SW. … read all
More on VolcanoDiscovery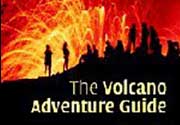 Excellent information for anyone wishing to visit and enjoy active volcanoes safely. Detailed guidelines to 42 different volcanoes around the world.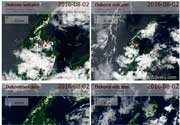 Recent volcano satellite images: Browse quickly through the latest satellite imagery from volcanoes all over the world in order to spot ash clouds and hot spots.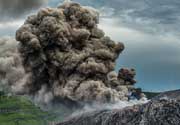 Ibu volcano photos: Ibu in Halmahera is one of the most active, but rarely visited volcanoes in Indonesia. A spectacular lava dome is growing inside the volcano's breached crater, with frequent explosions.