Date & time: Thursday, 3 September 2020 22:41 UTC
Magnitude: 4.6
Depth: 10.0 km
Epicenter latitude / longitude: 35.4°N / 27.71°E
(Greece)
Nearest volcano: Nisyros (140 km / 87 mi)
Primary data source: GFZ
Estimated released energy: 5 x 10
11
joules (139 megawatt hours, equivalent to 120 tons of TNT) [learn more]
If you felt this quake (or if you were near the epicenter),
please share your experience and submit a short "I felt it" report!
Other users would love to hear about it!
Also
if you did NOT feel the quake
although you were in the area, please report it! Your contribution is valuable also to earthquake science and earthquake hazard analysis and mitigation efforts. You can use your device location or the map to indicate where you were during the earthquake. Thank you!
Data for the same earthquake reported by different agencies
Info: The more agencies report about the same quake and post similar data, the more confidence you can have in the data. It takes normally up to a few hours until earthquake parameters are calculated with near-optimum precision.
| | | | |
| --- | --- | --- | --- |
| Time | Mag. / Depth | Location | Source |
| Thu, 3 Sep 22:41 UTC | M 4.6 / 10 km | Dodecanese Islands, Greece | GFZ |
User reports for this quake
There are no user reports for this quake yet. If you felt it or were nearby when it occurred, be the first to report it!
Significant earthquakes in the same area since 1900
Light mag. 4.6 earthquake – Dodecanese Islands, Greece on Thursday, 3 September 2020
Click here to search our database for earlier earthquakes in the same area since 1900!
More on VolcanoDiscovery: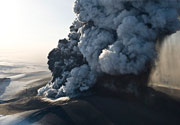 Eyjafjallajökull volcano photos: The volcano in Iceland with the unpronounceable name… but famous in 2010 when its ash clouds drifted over Europe and forced a unprecedented large-scale airspace closure for several days, stranding millions of passengers.
Become a supporter: To continue to run this website full of free information about earthquakes and volcanoes to you, we also need to pay our developer, servers and in addition, we spend lots of our free time on it. If you enjoy it, we will greatly appreciate your support. If you like, you can send us a small donation.